Silver Wholesale Jewellery Enquiries
Thank you for your interest in my jewellery.
Due to a high level of interest in both direct and wholesale, I am currently unable to accept any new applications at this present time
Current Stockists of Lesley H Phillips, Handmade Silver Jewellery
I would like to sell your jewellery, who do I contact about wholesale enquiries/becoming a stockist?
If you own a shop or a gallery and would like to know more about buying my handmade silver jewellery wholesale (jewelry), please feel free to CONTACT Lesley. In order to view the wholesale price lists, please complete the TRADE ENQUIRY FORM BELOW and you will be provided with your password to gain access to wholesale page of this website.

WHOLESALE



I would like to know some details such as a description of your shop, its location, and the other items/brands you sell.
As a retailer of my jewellery (jewelry) you will receive a listing on my website under "Stockists". You will also receive free of charge, a point of sale card and information cards advising your customers how to take care of their designer jewellery.


Can I have exclusive rights to selling your handmade silver jewellery (Jewelry)?
I am happy to work with you on exclusivity within an area which creates added value for your customers. Just ask and we can discuss this further.

Internet Sales
If you are a retailer intending to sell on the internet, please note that I do not allow my jewelry to be sold on Ebay / other auction style websites. I do not believe that the other products offered on such sites reflect its quality. I am the sole distributor with Amazon.co.uk.


Is there a minimum order value?
There is no minimum order value. Delivery is FREE in the UK for orders over £600.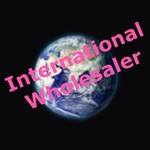 International Sales
Royal Mail Airsure (tracked throughout the journey) is only offered to a select number of countries. In other circumstances, Royal Mail International Signed For will be used
Please either complete the form below or the attached Word Document
WHOLESALE ENQUIRY FORM
and email to: [email protected]

(I am pleased to accept this information on an email, if you have difficulty saving/sending this form, providing all the information required is provided)


Your application is approved prior to releasing your password, so please give me time to process your application. Please add the email address [email protected] to your approved emails. Should you not receive an email within 48 hours of enquiry, it is highly likely that your computer has rejected it as 'junk'.
The wholesale page of this website allows you to access downloadable PDF price lists of my wholesale jewellery.